Forty-Six Strings and Some Truths
Harp-playing folksinger JOANNA NEWSOM talks history, theory and inspiration with Jay Babcock
Originally published in Arthur No. 10 (April 2004) (available from Arthur Store)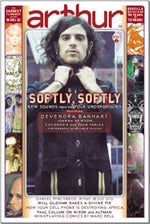 The Lyon & Healy pedal harp is not a regular presence in rock clubs. It's expensive, it's big, it's complicated. It has 46 strings, which cannot be re-tuned between songs during a performance. It's difficult to master—basic competence requires years of training and practice. Outside of Bjork's last album and recent tours, it's an instrument almost without history in pop music.
So, when the 22-year-old Joanna Newsom appears onstage, alone, playing this exotic device, attention is inevitably paid, not just cuz you never see it done, but because, as Joanna says, the harp is usually associated by contemporary listeners with a single cheesy sound: the glissandi, a simple, artless running of the fingers across a broad span of strings, used as a decorative cue in sitcoms, films and commercials. Which means the simple act of witnessing a harp really being played—of runs of notes plucked with one hand while the other plays a fixed pattern—is gonna be novel. It's as if your only experience of the electric guitar was the sound of a single power chord, and then suddenly you witnessed the playing of whole riffs, whole rhythms, whole melodic lines, whole songs…
Songs. It's Joanna Newsom's songs, it's her lyrics, it's her singular voice—accurately described by Currituck Co.'s Kevin Barker as "eight and eighty, dawn and dusk"—that makes the gawkers stick around, after the initial curiosity of seeing a harp played by a pixie from a California Gold Rush town wears off. Cuz what Joanna is doing is neither experimental, avant garde stuff, nor the pretentious bloat generally associated with the use of classical instruments on the rock stage. It's instead firmly rooted in the folk tradition: verse-chorus songs with careful attention paid to lyrics and vocal performance. When Joanna sings "This is an old song, these are old blues/This is not my tune, but it's mine to use," she's stating fact and ambition. She's making a claim. It's one that she's earned the right to make.
With support and advocacy over the last couple of years from friends and admirers like Will Oldham, Devendra Banhart and Cat Power, she began to record her music and perform live. After making two home-recorded CD-R EPs, she released her full-length debut on Drag City this spring with the stunning The Milk-Eyed Mender, and will be touring with Banhart in the early summer.
Two weeks after seeing her wow drunk hipsters in a Seattle rock club, and after tagging along on the photo shoot for this piece, I interviewed Joanna for an hour by mobile phone. I was struck once again by her essential singularity—it extends even into her conversation, which is learned, humble, passionate and articulate. Here is some of what we talked about.